Jill Knapp Lost 100 Pounds By Eating 6 Small Meals a Day!
by Paula
(Woodlake, CA)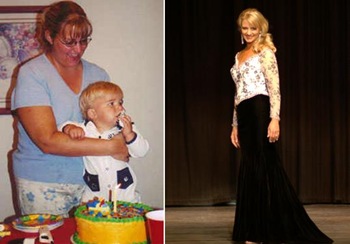 Her Before and After Photo
Here's an inspiring story about how Jill Knapp loses weight for life and develops a new lifestyle.


Here is an interview I did with Jill Knapp, a very inspiring lady! I hope you get as inspired as I did!!
Name: Jill Knapp
Wife of 16 years
Mom of 3 wonderful children
Age: 43
Height: 5'8"
Before weight: 237
How did you gain weight?
During my first pregnancy, I gained 50 pounds, and after childbirth, my weight gradually began increasing. As with most women, I became busy with life and forgot the importance of taking care of myself. I was young, and my body didn't feel the extra 100 pounds I had gradually put on over the years. I had bad eating habits, no time for exercise and no real desire to be healthy.
What was your wake-up call?
Unfortunately I had to hear "You have Type II diabetes." I am hoping others will lose weight before they have to hear those words. It's very depressing getting the diagnosis of Type II Diabetes. It changes everything.
How did you get the weight off?
I logged my food, ate six small meals a day and had no refined sugar. Started eating vegetables and loved getting them from Idaho farms. Finding out I had Type II Diabetes helped me have a paradigm shift in the way I think, and I did a lifestyle change versus a diet. Five days a week, cardio mixed with weight training was my exercise routine. I never skipped a day.
What were your biggest challenges throughout your weight loss?
I broke my both sides of my ankle after slipping on black ice. I had to have surgery and a plate with 6 screws put in my Tibia bone. I thought "How will I ever get the weight off now?" I was so determined that I made sure I did not let my ankle stop me. It took 9 months in total to heal from that fall and I could not exercise, but I kept eating 6 small meals a day and reached my goal.
What made you decide to compete in the Mrs. Idaho International Pageant?
My neighbor and friend has worked behind the scenes of the pageant for years. She said, "Jill you should compete, you have a great message to share". I thought it
would be a great way to bring awareness to Type II Diabetes and get others motivated to make change. In the months before the pageant I spoke at schools, offices, weight loss challenges and after school programs. It was a wonderful feeling to share my personal journey to help others.
The pageant was fun and it was the first time I had been on a stage in over 20 years. I placed 2nd runner up. I won the best interview award, community service award, most years married award and was voted Mrs. Congeniality. It was such a great thing to do the after losing 100 pounds. I am so glad I did.
What are you doing now?
I am a Diabetes advocate. I am still carrying my message as far and wide as I can. I am also a motivational speaker and love it. It brings me great joy to share my story and in doing so inspire them to "get up and get moving!'
How is your health now?
It's great! I take no medication for my diabetes, I have it under control through eating right and exercising. I feel wonderful! I have more energy now and it's because I am living a whole new lifestyle. I have the energy to keep up with my 3 kids but especially my 5 year old. I have more drive to live and am happier with myself. I remember how it felt carrying that extra 100 pounds around. I remember being very depressed. I will never go back to living that way again.
What is the one thing you would like to share that we have not covered?
I want to let others know, YOU can lose weight. No matter what your circumstances. No matter what your age. YOU can start living a healthier lifestyle right now. Take one day at a time and you will reach your goals.
After Weight: 137
Jill has maintained her weight loss for 1 yr 6 mo.
Learn more about Jill by visiting her web site:
Get Up and Get Moving
.
---
Hi Paula,
Thank you for sharing Jill's story. Hopefully, others will be motivated to change, too.
I was diagnosed with Type II Diabetes a few years ago and completely changed my diet. I lost weight and feel better, too.
Act on your dream!
JD