That I am wealthy and self sufficient, and that everyone who purchases my designs are blessed by them.
by Cheryl Paton
(Morgantown, WV, USA)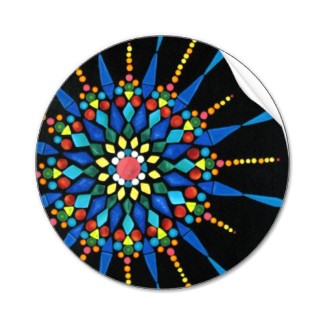 Gemstone Mosaic - one of my favorites
When I was a kid and the teacher asked what we wanted to be when we grew up. My first thought was an artist. For some reason, I immediately thought, no, I better pick something I can make more money at. So my second choice was a teacher.


I did become a teacher of sorts, I was a literacy volunteer for around six years, then started my own business as a literacy tutor for adults. I did that for a few years; but I yearned for something more.
Various things happened that inspired me to try and figure out what that something was. I eventually figured out that I wanted to honor my childhood desire, and be that artist, who does make it.
I've done several avenues of art. One of my firsts was painting floor cloths. I loved the painting, but not the kneeling on the floor to hem them. I also didn't care much for having to wait for them to dry and to package and ship. I wanted a company that took care of those things, while I created art.
I finally found out about Zazzle. I realized that painting small (small images as compared to floor cloths) was actually my preference. I like things being in arms reach and all contained on my desk. It took awhile to figure out, but I'm glad I did.
---
Cheryl, I think it's great that you continued acting on your dream and I really like your Zazzle store.
Here's one of Cheryl's Gemstone Mosaic designs on a greeting card.
Thanks for sharing your dream with us, Cheryl.
Act on your dream!
JD